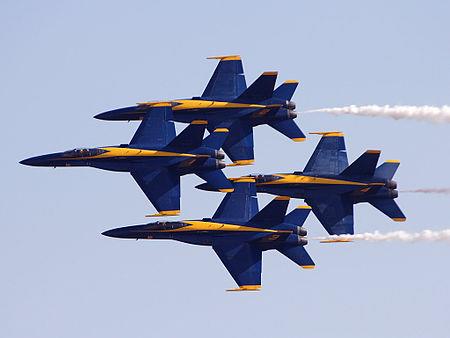 U.S. Navy Blue Angels
We welcome back the U.S. Navy Blue Angels Flight Demonstration Team flying six F/A-18 Hornets and the C-130 Hercules named Fat Albert. This stunning high performance demonstration showcases the velocity of the aircraft and precision of the pilots and crew.
The Blue Angels flight demonstration team is more than just a group of individuals; brought together to represent the United States Navy and Marine Corps. This team combines the best and brightest, at the top of their craft. Their camaraderie and chemistry assure the team mission is more than just a job – it's a passion!
During their aerobatic demonstration, the Blues fly six F/A-18 Hornet aircraft, split into the Diamond Formation (Blue Angels 1 through 4) and the Lead and Opposing Solos (Blue Angels 5 and 6). Most of the show alternates between maneuvers performed by the Diamond Formation and those performed by the Solos. integrated avionics, coupled with improved supportability, represents an exponential leap in warfighting capabilities.
---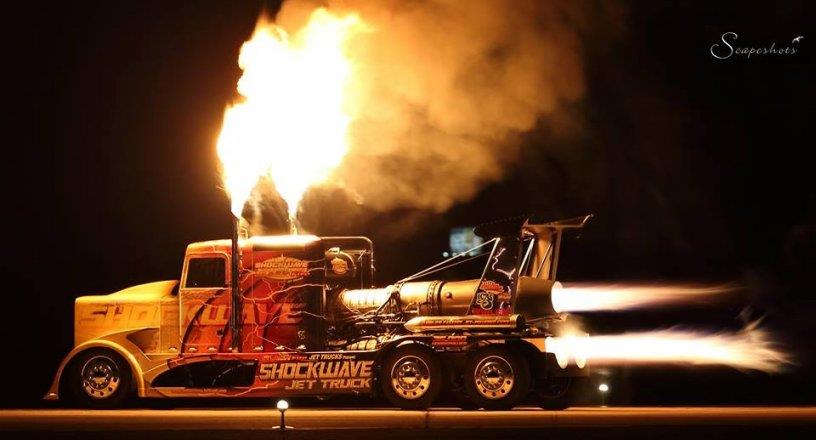 Shockwave is a custom-built race truck equipped with 3 huge J34-48 Pratt & Whitney Jet Engines originally out of the USA Navy T2 Buckeye. The combined horsepower is 36,000. These three jet engines make a total of 21,000 lbs. of thrust which easily propels this truck to speeds over 350 mph while racing planes at air shows all over North America! Shockwave is not only the most powerful truck in the world, it also holds the record speed for Semi Trucks at 376 mph!
The Shockwave performance is not something you will soon forget. This is truly an assault of all your senses with huge flames coming out of the 3 after burner engines, fire shooting out of the smoke stacks, intense heat, deafening noise, and SPEED! Shockwave is owned by Darnell Racing Enterprises, Inc based in Springfield, MO and driven by Chris Darnell.
---
Matt Chapman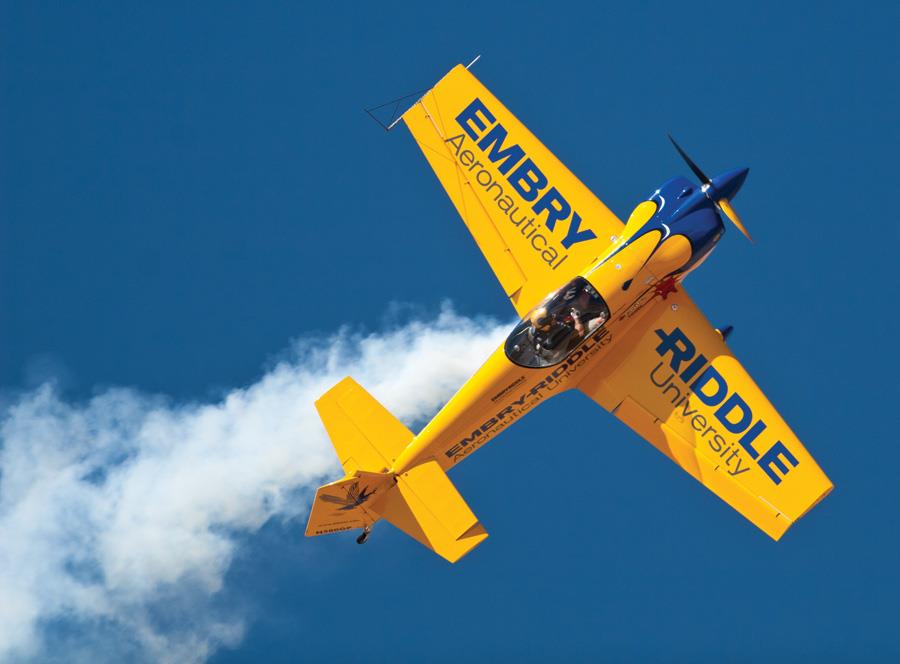 Embry-Riddle Aeronautical University is proud to sponsor Matt Chapman. Matt personifies what we love about aviation-the thrill of expanding the envelope in what is known about flight, the credentials and expertise to make that possible, and the passion of doing it right and doing it well.
---
Our teams fly the most unique high-performance aerobatic aircraft in the world, and perform for millions of air show spectators each year. Our goal is to entertain with a unique blend of precision, power and performance. We're honored to have valued relationships with our marketing partners, and we're committed to generating engagement with their amazing brands, across America.
John Klatt Airshows and Jack Link's Beef Jerky teamed up to create a one of a kind plane, the Screamin Sasquatch., which is powered by two different engines. The plane style is a Jet Waco, first introduced by Jimmy Franklin in 1999.
Now, the Screamin' Sasquatch is one of a kind on the air show circuit.
This airplane was a classic 1929 Taperwing, which was the plane of choice for barnstorms in the 1930's and 1940's.
The air show industry is starved for this type of excitement, and with the partnership with Jack Link's, the Screamin' Sasquatch will help all those attending air shows this year feed their wild side.
---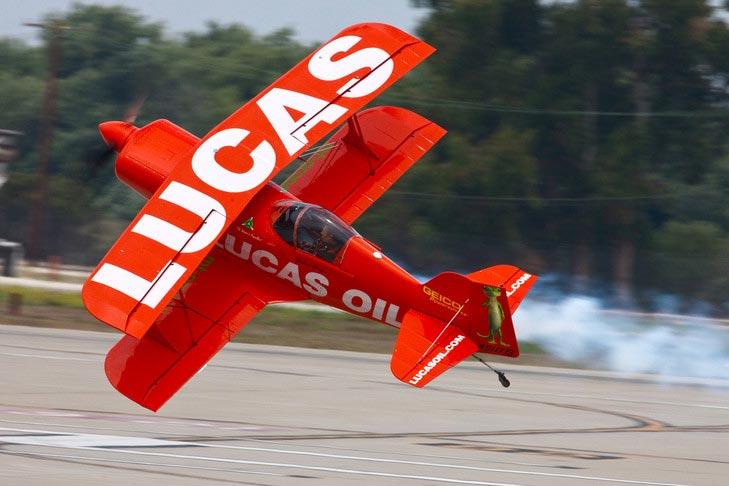 Lucas Oil Airshows
For the millions of people in America and Canada who come to watch Lucas Oil Airshows it's an adventure. For our team aviation is our passion. While many are content to take the magic of aviation for granted, we strive to show you flight's adventurous side - all it takes is a difference in perspective. Lucas Oil aims to bring the adventure to you.
---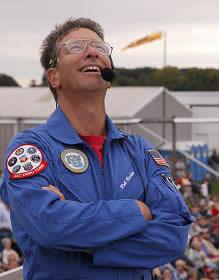 Rob Reider - Air Show Announcer
Rob Reider is the most sought-after announcer on the North American circuit. Rob is proud to be the voice of the most prestigious aerial events and to take the excitement of flight right to the hearts of millions of people each year. He brings an immense amount of experience and knowledge to the stage of air shows. Rob announced his first air show in 1978 and by 2006, air show announcing had become his full-time occupation!
---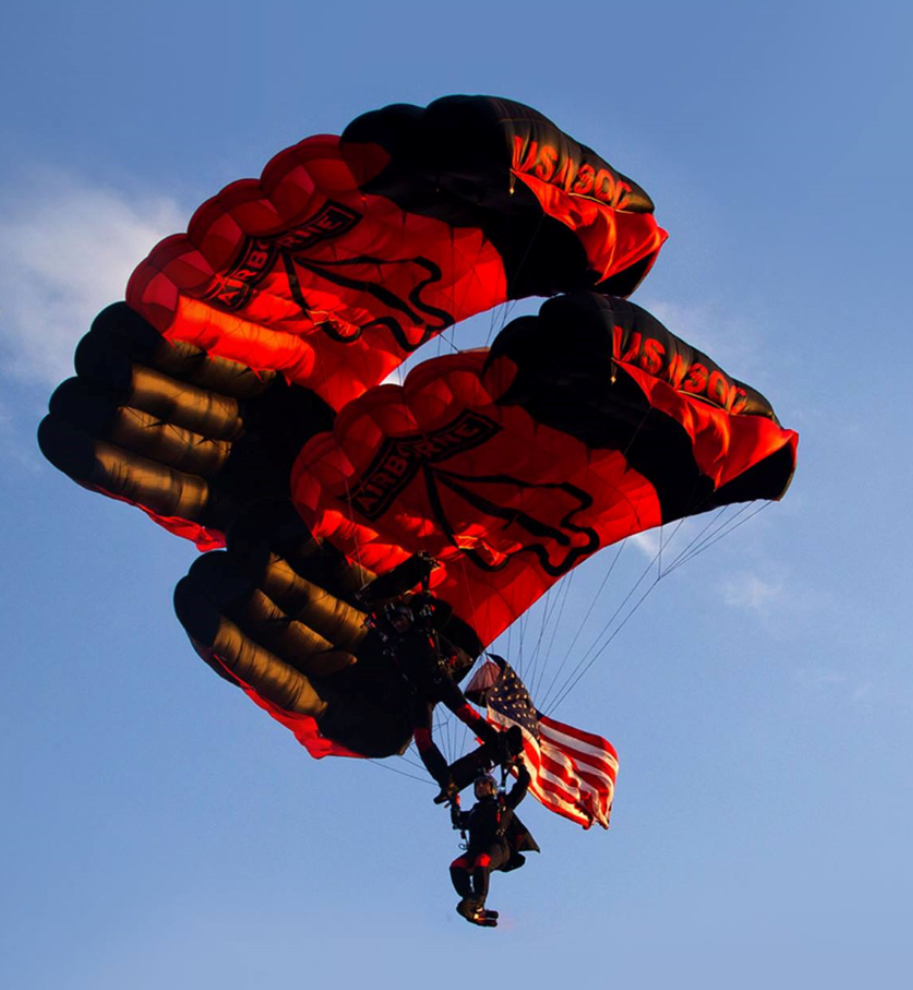 Black Daggers Parachute Demonstration Team
The Black Daggers are the official U.S. Army Special Operations Command Parachute Demonstration Team. Their mission is to perform live aerial demonstrations in support of Army Special Operations community relations and recruiting.
Descending from the skies at 12,500 feet, traveling nearly 120 miles per hour, free-fall parachuting is the closest humans have ever come to flying. During their two-mile drop, the Black Daggers maneuver their body using their hands, arms, legs and shoulders to control their flight. At a few thousand feet, they deploy their parachutes and land with pin-point precision, whether it's in a football stadium or on their training grounds near Fort Bragg, N.C. For the Black Daggers, that's a typical Monday morning.
The team represents the professionalism and dedication of Army special operations forces.
---
Quicksilver Mustang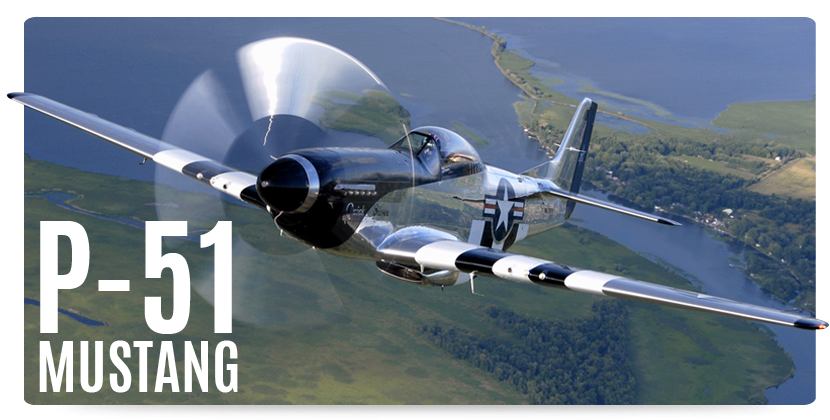 The North American Aviation P-51 Mustang is an American made long-range, single-seat, fighter aircraft primarily engaged in service during World War II.
The P-51 is powered by the Packard V-1650-7, a license-built version of the Rolls-Royce Merlin 60 series two-stage two-speed supercharged engine. This engine made this aircraft capable of being used as a long-range bomber escort. During wartime, the aircraft was armed with six .50 caliber (12.7 mm) M2 Browning machine guns.
After World War II and the Korean War, many of these aircraft were converted for civilian use and are a popular choice in the racing industry. The Mustang earned such revere and experienced so much popularity that in the 1960s, the Ford Motor Company designed a youthful coupe and named it after the aircraft.
The P-51 Mustang demonstration will be flown by Scott "Scooter" Yoak who, with his father Bill Yoak, has restored the Quick Silver from parts of Mustangs that were used in every war theater the Mustang was utilized.
The Mission of the Quick Silver Flight Team is to honor and pay tribute to the thousands of veterans that have sacrificed their lives for the freedom and security of others. It is the mission of the Flight Team to keep Quick Silver in the air and flying at as many shows as they can make.
---
Redline Airshows is an exciting formation aerobatic team that thrills crowds with a display of skill, nerve, and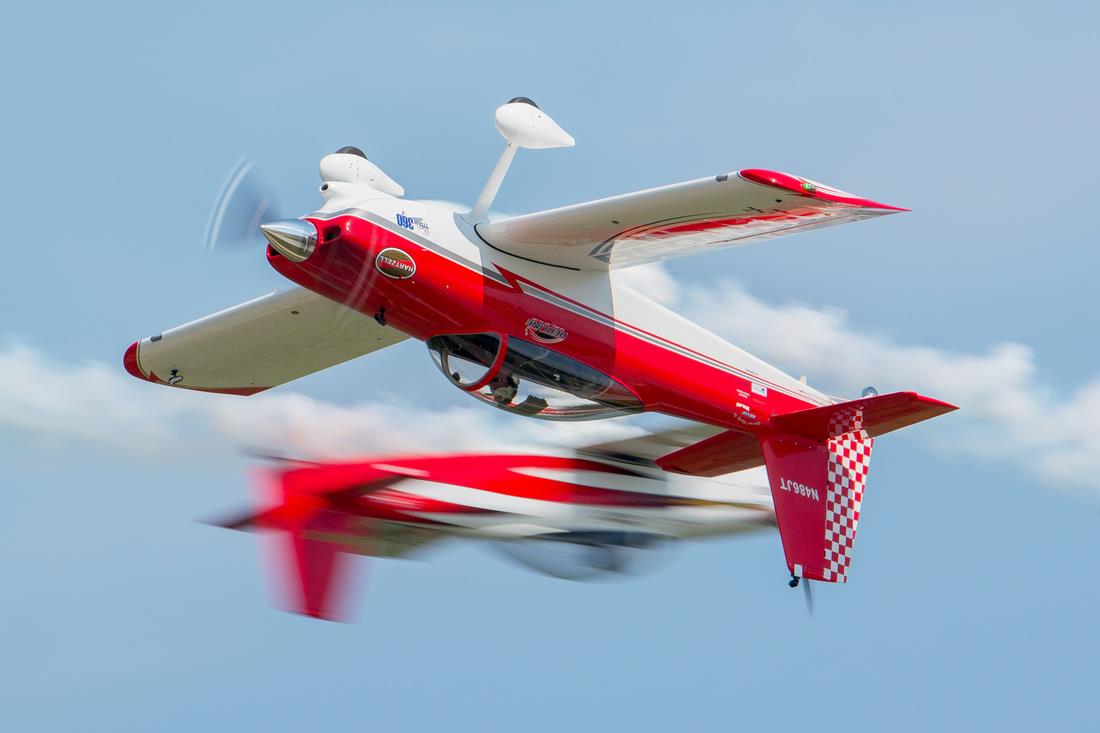 showmanship.
Redline aircraft are Van's RV-8s. They are 2 seat, tandem aircraft. There are more than 8000 Van's series aircraft flying worldwide.
The RV-8 is an extremely versatile aircraft, capable of speeds up to 230 miles per hour and can land short as slow as 50 miles per hour enabling them to access almost any airport.
The Redline planes have a 200 hp engine, and are equipped with Hartzell Advanced Structural Composite propellers.
Redline Airshows pilots Ken Rieder and Jon Thocker have been flying formation together for more than 10 years. Their opposing, inverted and formation maneuvers are a thrilling crowd pleaser.
Redline...the goal...not the limit.
---
Vampire Airshows and the De Havilland DH-115
Vampire Airshows is a premiere jet warbird act on the airshow circuit. Being the first single turbine engine fighter,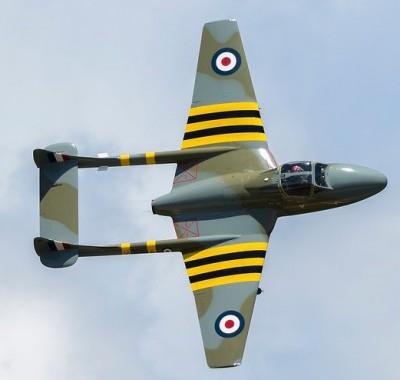 "Vampy" is a crowd favorite, providing historic jet excitement, speed, noise, jet warbird aerobatics, and a profile that grabs the audiences attention across the country.
While pilot Jerry "Vlad" Conley flys the aircraft, his banter with the announcer draws the crowds into learning about the aircraft. The aircraft is fully aerobatic performing rolls, Cuban eights, Shark tooths, inverted flight, high speed passes, and all with a killer smoke system.
The Vampire, being the "Beginning of All" modern jet aviation, is truly inspiring to watch fly.
---
The Air Combat Command F-16 Viper Demonstration Team at Shaw AFB, S.C., performs precision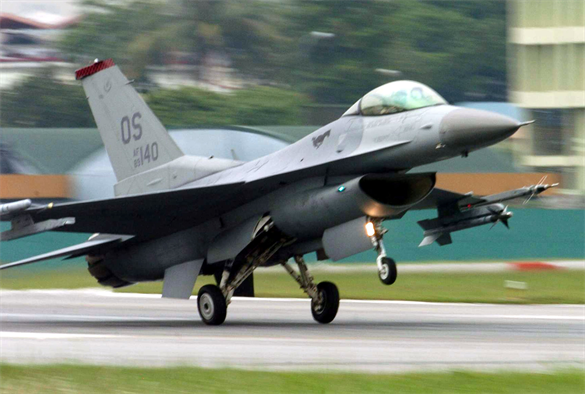 aerial maneuvers to demonstrate the combat capabilities of one of the U.S. Air Force's premier multi-role fighters, the F-16 Fighting Falcon. The team also works with the Air Force Heritage Flight Foundation to create a unique demonstration of the U.S. Air Force's past and present, exhibiting the professional qualities the Air Force develops in the people who fly, maintain and support these aircraft.